This article describes the most important AMBA bus architectures and how they evolved to accommodate to the ever increasing complexity of SoC technology. Digital designers will learn about the differences between common bus-based and recent transaction based interconnection architectures.
AHB revisited
AHB (Advanced High-performance Bus) first appeared to the public as part of AMBA 2.0 Specification and set out to replace ASB (Advanced System Bus) as the basis for ARM based System on Chip (SoC) interconnect fabrics between processor(s), internal/external memory controllers, and other high-bandwidth peripherals.
Both being traditional bus systems, AHB and ASB are fairly similar in concept. The newer AHB, with only unidirectional (multiplexed, rather than tri-stated) signals, has been specifically aimed at synthesizable, DFT-friendly ASIC designs.
AHB supports single data access and various types of burst accesses (including wrapping bursts to support cache line fill operations). Each transfer is defined by an address and a data phase where the address phase of one transfer occurs during the data phase of the previous transfer.
Underlying AHB is a traditional bus architecture with arbitration between multiple masters. The protocol supports advanced features such as SPLIT and RETRY signaling in cases where a slave is not able to respond immediately. The master that had been granted the bus will back off and other masters will get a turn.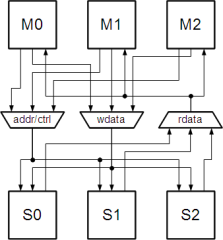 Multi-layer AHB and AHB-Lite
Although traditional multiplexed multi-master systems are still quite common, little over a decade ago the ARM SoC world started shifting towards crossbar switched interconnects, in the form of multi-layer busses. This was a rather important initial step which led over time to some critical improvements:
Each layer of the bus is an independent single master AHB system. Instead of a rather complex monolithic multiplexing scheme, a multi-layer AHB bus architecture with M masters and S slaves is structured as M X 1:S multiplexers plus S X M:1 slave multiplexers all connected to separate arbitration and decoding logic.